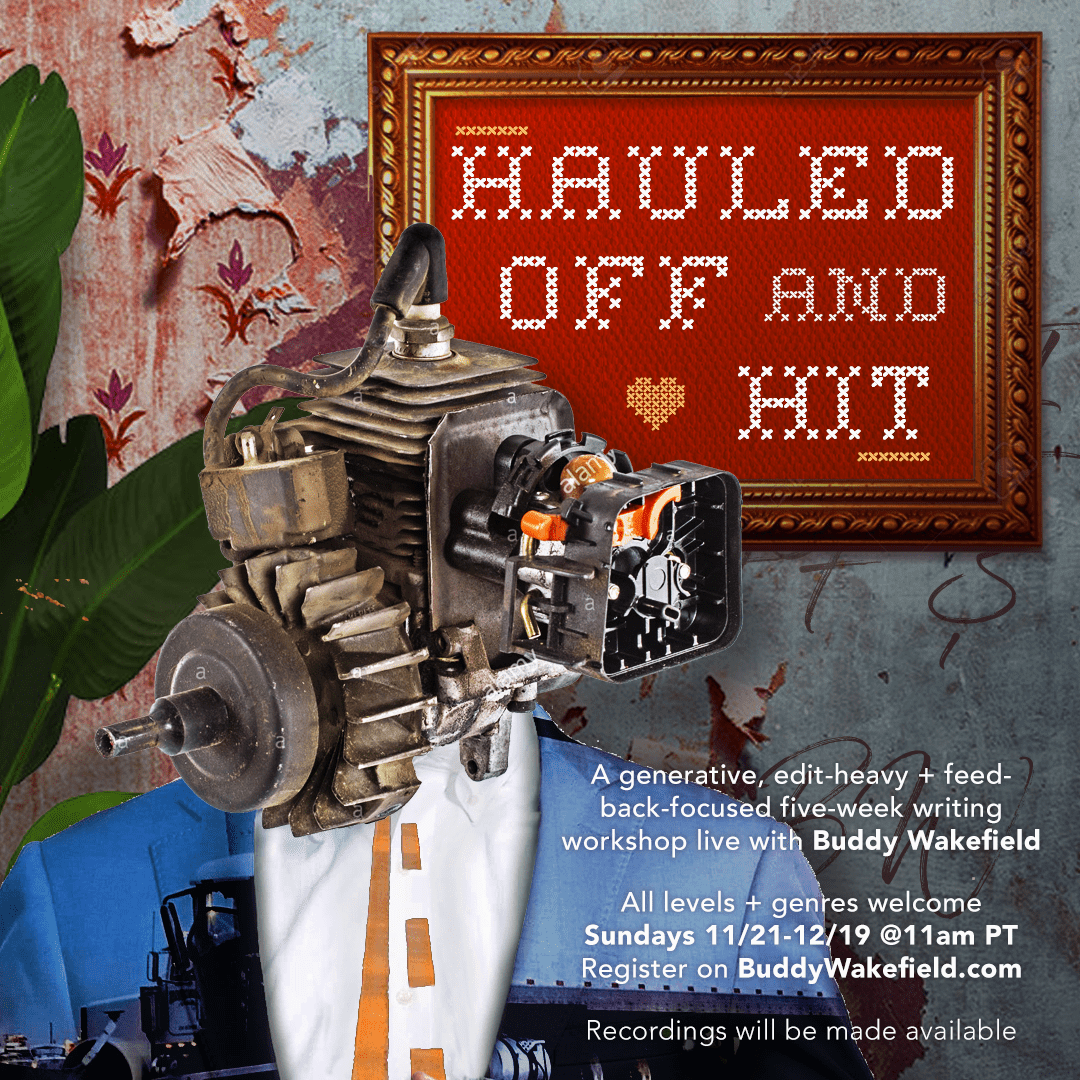 "I don't know who got in whose way, but I'm not convinced peace doesn't feel dangerous first."

—Buddy Wakefield
***
Welcome to a new workshop by Buddy Wakefield. Hauled Off and Hit is a generative, edit-heavy and feedback-focused five-week writing course developed for all levels and genres. You will get individualized attention.

WEEK 1
This week is mandatory for anyone taking a workshop with Buddy for the first time. While any feedback given throughout the five weeks will by no means be gratuitously harsh, it is not riskless input. It is therefore important newcomers have as much context as possible, and a basic understanding of the fundamental criteria Buddy applies to his own writing, as that criteria will be continuously referenced,

helping participants to easily digest feedback and effectively put insights to work.

Recordings will be made available for anyone unable to attend a live session.

 
WEEKS 2 – 5
Weeks two through five will be concentrated writing and discussion sessions centered on the works of the participants. Each participant will have an opportunity to be ushered into the spotlight for a candid conversation with Buddy about their approach to writing, their technique, and their intentions. If you feel you have honed none of these things, even better, welcome. You belong here.
Sundays beginning November 21st

Nov. 21, 28 and Dec. 5, 12, 19, 2021
11:00am-1pm PST / 19h-21h GMT
$150 for all 5 weeks!!
You don't have to be brilliant every time you show up.
        You just have to show up.

– Buddy Wakefield

 

                                                                      
Hauled Off and Hit includes:
Five weekly two-hour live writing sessions with discourses, discussions, input and plenty of opportunities to go off the high dive for the first time.

Opportunities for direct quality conversation with – and feedback from – Buddy with regards to your writing and – in some cases – presentation.

Q&A with Buddy to review each session and answer to the needs of the participants.

Private in-site discussion group for questions, sharing, resources, and feedback with fellow participants.

Access to recordings up to two weeks after the course.
What you can expect:
Expect at least one poem of your choosing to receive detailed notes and input from Buddy, live in front of the other participants, if you choose.

Expect to be heard.

Expect to notice architecture in the absurd.


Expect to walk away with a developed agency over language and your intentions.

Expect to develop a sharper awareness of what's at-hand and what's ahead for you and your work.

Expect to write, to listen, to participate, to support, and to not be brilliant.
***If you have to cancel after the course begins, you will not be refunded, but will be given credit toward a future course.
TESTIMONIALS FROM PARTICIPANTS
Buddy's writing workshop exceeded every expectation I came with. His commitment to caring for his students is impossible to misinterpret and his curriculum beneficial to artists of all levels and types. Come for the poetry, stay for the legacy.
—Ryan Hildebrand
I don't claim to be a writer. But I have and will enthusiastically sign up for every workshop I can because I love the space Buddy has created. Regardless of experience level, he makes the space safe to learn and grow from wherever you're starting.
—Bria Woodyard
Buddy's workshop plugged me back into my body. For that I am forever grateful.
—Seth Wearing 
I looked up Buddy's workshop feeling all kinds of 'I don't belong' then five minutes before it started, I signed up and watched him prove me wrong. I learned to unlock the door to all I was trying to say but couldn't get it out. It transformed how I write, as well as how I show up and communicate with others every day. It also helped me to view the world through a different lens – one I'm still exploring. It was a life-changing experience for me, and I know it will be for you, too. 
—Chloë Forbes-Kindlen
Buddy is brilliant. Unique. Both as a poet and as a teacher. I'm so glad I found him. He inspired me to become my best self as a writer. He was my red pen friend, encouraging me practically to learn and hone my craft. Don't hesitate. Jump in! You won't regret it. 
—Kate Fenwick 
Buddy's feedback, guidance and support during the workshops have made an important and lasting impact on me and my work. I whole-heartedly recommend signing up. —Rachel Helena Walsh 
Writing with Buddy was my pandemic lifeboat, my call to myself, my way to stay at home in my body. Through working with him, I have really been able to push myself as a writer and become part of an intimate community of badass word assemblers. Things you can gain from his courses: how to get out of your own way, how to stop running from the words and stories that scare you, to quit wasting words assuming the reader can't go there with you. There is hope at the end of this.
—Grayson Thompson 
I've had the opportunity to learn from Buddy a few times, and every time, I've left the virtual classroom inspired, engaged, and excited to try new things in my writing. I've learned skills that have given me the chance to look at the world, and my writing, in different ways, and gotten true and honest feedback around my poetry that has been invaluable. Frankly, there aren't many teachers, or topics, that could drag me out of bed for a 4am start (time zones are mean creatures, sometimes) but Buddy is definitely at the top of that list.
Buddy is not the teacher for you if you're looking for someone to pat your head and tell you how amazing your writing is. He is an immensely kind and generous teacher, but he's also an honest one, and he's the sort of mentor who will (lovingly) call you out on issues while doing everything he can to help you improve. You may not always get the feedback you want, but you will always be given the kind of feedback that wants to see you flourish, and I am an infinitely better poet for having worked with Buddy. 
—Kylie Thompson 
I got called back into myself every week, and I found a way to love writing again. Thank you, Buddy.
—Kara Wernick
Image Credits: Frankie Sanchez