"You are a history of victories no matter what story you've been telling everyone else. "
                                                                                                 —Buddy Wakefield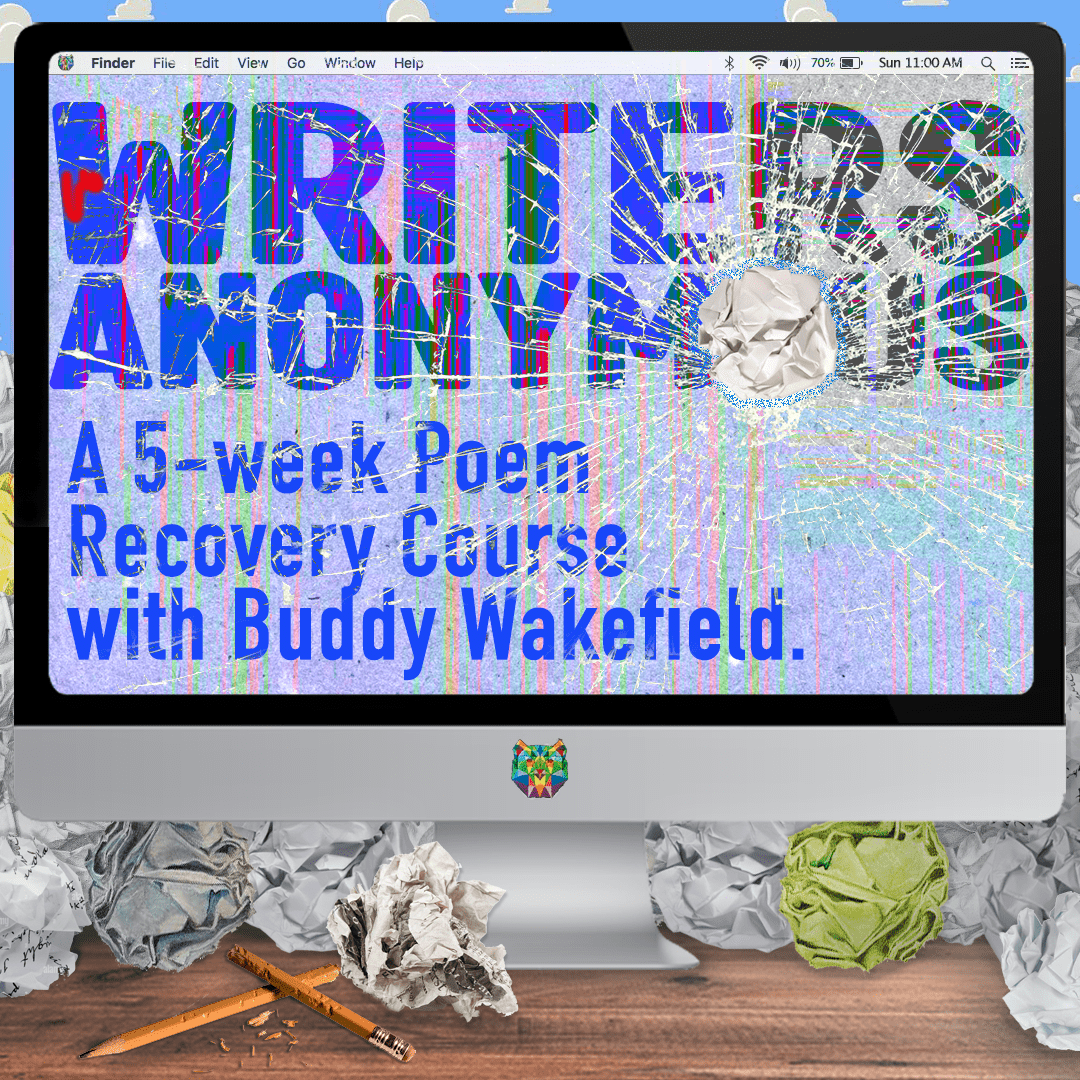 Welcome to a new workshop by Buddy Wakefield!
Writers Anonymous is a generative, edit-heavy and feedback-focused five-week writing course developed for all skill levels. At each session, we'll work together in detail to elevate the poems of workshop participants in order to better understand how trust and respect are built, both with an audience and themselves. Throughout the course, willing students receive an opportunity to be ushered into the spotlight for a candid, safe conversation about their work, craft, logic, and intentions. If you feel you've honed none of these things, even better. Welcome. You belong here. 
Writers Anonymous includes:
Five 2.5-hour live classes in a supportive environment with discourses, discussions, insights and plenty of opportunities to go off the high dive for the first time.
Q&A with Buddy to review each session and answer to the needs of participants.
Individualized attention. While not all feedback will be given live for those willing, at least one of your poems will receive detailed feedback from Buddy.
Private discussion group for questions, sharing, resources, insights, and feedback with fellow participants.
Potent writing assignments with recommended viewing and reading.
Access to class recordings for up to a month after the course is finished.
What you can expect:
Expect to write, to listen, to participate, to support, and to not be brilliant every single time you show up.
Expect to be seen, heard, and met exactly where you are.
Expect to walk away with a more developed agency over your language, your risks, and your intentions.
Expect to develop a sharper awareness of what's at-hand and what's ahead for you and your work.
Expect a historically loving environment full of people who only care to encourage your success as a writer, many of whom are learning this new instrument same as you.
"For us to not be worth it, the light would have to stop trying,
and it doesn't even know how to do that. "
                                                                                                 —Buddy Wakefield
Classes begin on Sunday, January 15th,
every Sunday for five weeks.

Dates: Jan. 15th, 22nd, 29th, Feb. 5th, 12th
Time: 11:00am-1:30pm Pacific
2-4:30pm Eastern
19-21h30 GMT
*If you have to cancel after the course begins, you will not be refunded, but will be given credit toward a future course.

**While it is helpful to attend all of the classes, it is not entirely necessary, as you will be able to clarify anything you may not understand during the Q&A, or via the recordings. 
After five weeks you will be able to:
better identify the cliché's and inefficient language that may live in your work.
give yourself and others more honest feedback when editing, with an improved eye for detail.
implement new and practical tools for enhancing the quality of your work.
more effectively build trust with your audience, even if that's just you, every step of the way.
"Run with it when the inspiration hits. Be ready when your opportunity comes.
Neither will wait for you to finish watching T.V. "
                                                                                                 —Buddy Wakefield
Participants Testimonials:
Buddy's writing workshop exceeded every expectation. His commitment to caring for his students is impossible to misinterpret and his curriculum beneficial to artists of all levels and types. Come for the poetry, stay for the legacy.
—Ryan Hildebrand, Austin, TX
I don't claim to be a writer. But I have and will enthusiastically sign up for every workshop I can because I love the space Buddy has created.
—Bria Woodyard, New York, NY
Buddy's workshop plugged me back into my body. For that I am forever grateful.
—Seth Wearing 
I looked up Buddy's workshop feeling all kinds of 'I don't belong' then five minutes before it started, I signed up and watched him prove me wrong. I learned to unlock the door to all I was trying to say but couldn't get it out.
—Chloë Forbes-Kindlen, Perth, Scotland
Buddy is brilliant. Unique. Both as a poet and as a teacher. I'm so glad I found him. He inspired me to become my best self as a writer. He was my red pen friend, encouraging me practically to learn and hone my craft. Don't hesitate. Jump in! You won't regret it. 
—Kate Fenwick 
Buddy's feedback, guidance and support during the workshops have made an important and lasting impact on me and my work.
—Rachel Helena Walsh, Cardiff, Wales
Through working with Buddy, I have really been able to push myself as a writer and become part of an intimate community of badass word assemblers.
—Grayson Thompson 
I've had the opportunity to learn from Buddy a few times and, every time, I've left the virtual classroom inspired, engaged, and excited to try new things in my writing. He is an immensely kind and generous teacher, but he's also an honest one, and he's the sort of mentor who will (lovingly) call you out on issues while doing everything he can to help you improve. —Kylie Thompson, Meanjin, Australia
I got called back into myself every week, and I found a way to love writing again. Thank you, Buddy. —Kara Wernick
"If you intend to be on the leading edge of consciousness,
then you have to be on the leading edge of language. "
                                                                                                 —Buddy Wakefield